Ball Valve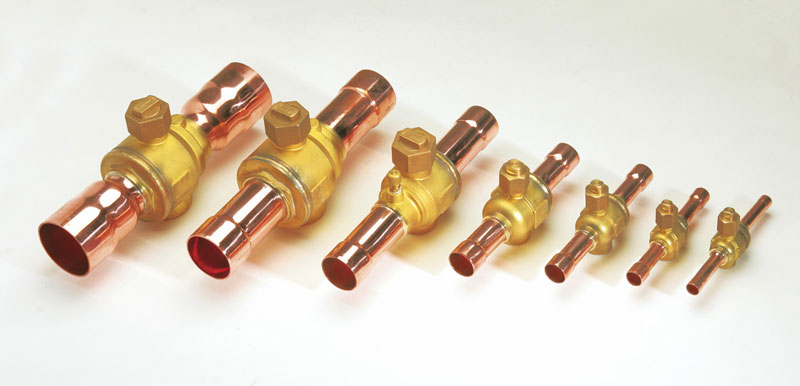 Model

ODS

Model

ODS

mm

Inch

mm

inch

BVC01

10

BVC09

28

BVC02

3/8''

BVC10

1-1/8''

BVC03

12

BVC11

35

1-3/8''

BVC04

1/2''

BVC12

42

BVC05

16

5/8''

BVC13

1-5/8''

BVC06

18

BVC14

54

2-1/8''

BVC07

3/4''

BVC15

67

2-5/8''

BVC08

22

7/8''

BVC16

80

3-1/8''
| | | | | | |
| --- | --- | --- | --- | --- | --- |
| Model | SAE Flare | Model | "O" Flare | Model | "O" Ring |
| BVB01 | 1/4'' | BVB06 | 1/4'' | BVB11 | 1/4''(9/16''-18UN) |
| BVB02 | 3/8'' | BVB07 | 3/8'' | BVB12 | 3/8''-(11/16''-16UN) |
| BVB03 | 1/2'' | BVB08 | 1/2'' | BVB13 | 1/2''(13/16''-18UN) |
| BVB04 | 5/8'' | BVB09 | 5/8'' | BVB14 | 5/8''(1''-14UN) |
| BVB05 | 3/4'' | BVB10 | 3/4'' | BVB15 | 3/4''(1-3/16''-18UN) |
| | |
| --- | --- |
| Part no. | Description |
| RV-04X04 | 1/4'' SAE x1/4'' NPT |
| RV-04X06 | 1/4'' SAE X3/8'' NPT |
| RV-06X06 | 3/8'' SAEX3/8'' NPT |
Magnetic Check Valve
Features:
Magnet valve seat, tectorial diaphragm. Copper connection size 1/4'' through 3-1/8''.
Near zero in ternal leak rate.
Compatible with all fluoro-refrigerants and oils.
Working temperature range:-40℃~+130℃.
Minimum current resistance, large flow rate.
Small volume, light weight and can be installed in any position.
Mesh in the valve body, it's not just a check valve, but also a filter.
Type

Connection

Safety working
Pressure(Kpa)

OD
(mm)

Length
(mm)

Mesh No.

Liquid capacity
(KW)

CV-4

1/4

5500

22

102

40

6.8

CV-6

3/8

5500

22

102

40

14.2

CV-8

1/2

5200

29

127

40

38.2

CV-10

5/8

5200

29

127

40

42.6

CV-12

3/4

4100

41

178

40

79.7

CV-14

7/8

4100

41

178

40

108.5

CV-18

1-1/8

4100

54

213

40

188.5

CV-22

1-3/8

4000

67

238

40

232.8

CV-26

1-5/8

3000

80

267

40

397.7

CV-34

2-1/8

3200

92

305

40

691.1

CV-42

2-5/8

3000

105

330

40

927.3

CV-50

3-1/8

3000

105

330

40

1262.5
V Series Rotalock Valves
| | | |
| --- | --- | --- |
| Part no. | Tube | Connection thread |
| V01 | 3/8'' | 1''X14 |
| V02 | 1-1/8'' | 1-3/4''X12 |
| V03 | 1-3/8'' | 1-3/4''X12 |
| V04 | 3/4'' | 1-1/4''X12 |
| V05 | 7/8'' | 1-1/4''X12 |
| V06 | 1/2'' | 1''X14 |
| V07 | 7/8'' | 1-3/4''X12 |
| V08 | 5/8'' | 1''X14 |
| V09 | 5/8'' | 1-1/4''X12 |

VS Series Rotalock Valves
| | | |
| --- | --- | --- |
| Part no. | Tube | Connection thread |
| VS01 | 3/8'' | 1''X14 |
| VS02 | 1-1/8'' | 1-3/4''X12 |
| VS03 | 1-3/8'' | 1-3/4''X12 |
| VS04 | 3/4'' | 1-1/4''X12 |
| VS05 | 7/8'' | 1-1/4''X12 |
| VS06 | 1/2'' | 1''X14 |
| VS07 | 7/8'' | 1-3/4''X12 |
| VS08 | 5/8'' | 1''X14 |
| VS09 | 5/8'' | 1-1/4''X12 |
Hot products show